Classic GE50 High Wall
Medium Room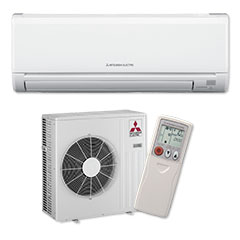 Our Classic GE50 is very, very quiet. The classic neutral design, energy saving features and mid-range capacity make it the perfect heat pump if you are looking to heat a moderately sized room and you live in a mild climate.
5.8kW Heating
Superior Energy Efficiency
Combining efficient technology with unique energy saving features our GE Series systems will contribute to reduced energy consumption in your home or office. Our i-save and Econo Cool modes are included on all GE models. i-save mode allows you to save temperature and fan speed combinations, returning to these at the touch of a button and Econo Cool provides maximum energy efficiency in cooling mode.
Quietness
Starting from barely a whisper, our Classic GE50 allows you to feel the warmth, not hear it. The GE range starts from a hushed 19dBA indoor sound and contains New Zealand's quietest heat pumps ever.
Cooling Capacity 5.0kW
Heating Capacity 5.8kW
Optional Wi-Fi Control Upgrade
With the addition of Mitsubishi Electric Wi-Fi Control, you will be able to control or monitor your heat pump from absolutely anywhere via your smartphone, tablet or online account.